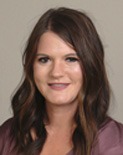 Born and raised in Fremont. Graduated from Fremont Ross High School in 2008.

Graduated from Eastern Michigan University with a bachelors degree in administration and graduated from Hondros College of Real Estate.

Moved back to hometown three years ago to be closer to family.

Married Bryan in November 2019.

Two stepchildren: Braxton and Bentley

Also has two furbabies: Tyson and Hank.

I love to travel (anywhere with a beach!) relax by the pool, and spend time with my family in my free time.